After five years of planning, I was peering over the edge of a remote Yukon Range ridge at a full-curl Dall sheep ram 500 yards below. This moment had been a long, anxious time coming.
It started in 2018 when I called Ryan Watchorn at WTA. I told him I'd like to try to get a sheep. I'd been working at Gunwerks for seven or eight years and had hunted a lot of animals out West. I wouldn't say I was bitten by the sheep bug that afflicts some hunters, but I knew guys at Gunwerks who had done it and it looked like a real challenge.
Ryan called back with the details for the hunt. "You're going in August 2020." Perfect, I thought.
Everything was planned and then in March 2020, the world shut down. We lost 2020 to the COVID border shutdown, and 2021 also. Then my schedule for 2022 didn't work out. Fast forward to July 2023.
With a hunt that conceptually started in 2018, I had five years of anticipation built up. I was lying in bed, restless and excited for my 7 a.m. flight out of Cody, Wyoming where Gunwerks is headquartered. Cody has a small airport with only one carrier. If you don't make your flight, you can't just book another one.
At 2 a.m. my phone buzzed with a text stating that my flight from Denver to Vancouver had been canceled, and my flight from Cody to Denver was postponed.
I jumped on the phone with the WTA-recommended travel partner, which was super because they have much more experience dealing with airlines. They hustled and found a flight out of Bozeman, a three-hour drive from me. It was a Hail Mary itinerary from Bozeman to Seattle to Vancouver. I would only have 40 minutes in Vancouver to get my gear and rifle through customs for my flight to Whitehorse in the Yukon Territories.
He said, "Garrett, I don't think you'll make it, but you don't have any options, so we booked it." 
I jumped in my truck, drove three hours to Bozeman for the flight to Seattle, then got to Vancouver, and had my permits ready. I've traveled with a rifle through the Vancouver airport a number of times, so I know the song and dance. Be really polite and follow the procedure.
I was traveling with my good buddy, Kregg Thomassen, who was along to film the hunt for Gunwerks Long Range Pursuit. Kregg didn't have a firearm to register, so I asked him to find where I needed to go to catch the Air North flight to Whitehorse, and tell them I'd be there as soon as I could. As I was getting my firearm cleared, Kregg texted that Air North was way at the back of the airport. "Grab a cart and run," he said. I ran through the airport and they were boarding my row when I got there. Thankfully I got on the plane with Kregg. We relaxed, thinking we had just conquered the world. A nice flight to Whitehorse and all good. Then, while waiting at the baggage carousel in Whitehorse for our stuff, the carousel stopped. No gear, no rifle. We thought maybe it was sent as oversized. But at the oversized-baggage area, none of my stuff was there.
There was nothing we could do, so we met up with the outfitter and went to a motel. There were four sheep hunters who would overnight in Whitehorse and leave the next morning. We had to drive three hours to Burwash Landing where the bush pilot lives so he could disperse us to our hunting areas. In the meantime, the airline was looking for my bag and rifle case. The next morning, I flew out last, in case my gear could catch up with me. Not even 20 minutes before I got in the Cessna 208 to fly out, I got a call that my gear would arrive in Burwash Landing by 11:00 that night. Sometimes you get lucky. Another sheep hunter's flight was screwed up and he came in late. My bag came on his flight the next day and one of the guides went back to get him and my bags.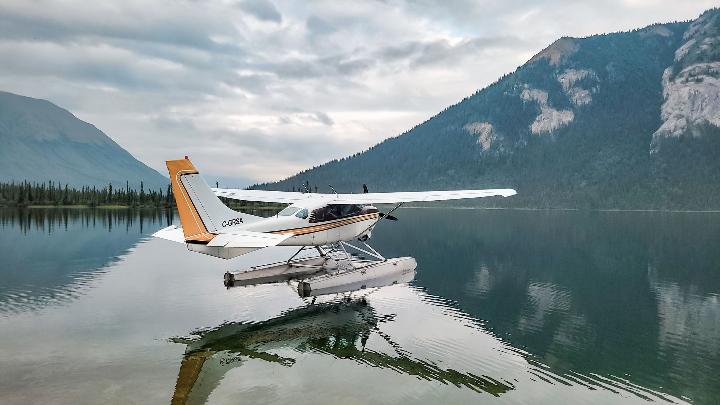 In the meantime, I scouted without my gear for a day. Everybody in camp was great and chipped in. I had one guy's boots and somebody else's pants. That would have worked for a 3–4 day mule deer hunt. But for 10 days, it's a different story. It was soul-crushing to spend years planning a hunt and getting gear ready only to not have a single piece of it.
By the next morning, I had my gear and could start thinking about the sheep hunt. It's not the best way to start, but what matters is the finish.
We couldn't have asked for a better guide and wrangler. And that's not always the case. I've been fortunate enough to hunt in a lot of camps around the world. Sometimes personalities don't jive,  there's short-staffing, or issues that detract from the experience. But WTA definitely put us in the right camp with the right people for this trip. We really lucked out with Quinn and Matt. When we opened the door of the plane after landing on the lake, our horses were tied and waiting for us. We could hear country music coming from the little Bose speaker they had hung in a tree, and Kregg and I knew we were in the right camp. That night we ate bacon cheeseburgers that they had flown in so we could have one last nice dinner before we set off for 10 days of eating dehydrated meals.
The outfitter and his team have strong beliefs in their scouting efforts, to the point that we were targeting about 15 rams in a big basin. Our job was to locate each of the rams and if they weren't legal size, cross them off the list. If an outfitter hunted an area the year before and took a ram out of the group, but there were two or three legal or almost legal-sized rams still there, they believe there will be other legal rams to pursue the following year. But they had not hunted this area the year before so they knew there were 15 rams in there, but they didn't know if any were legal. Our job was to go in and find out.
And that's what we did. We set out on horseback for a day of scouting before the hunt. We rode for five hours in some of the most beautiful country in the world and set up an awesome little spike camp along the river bottom.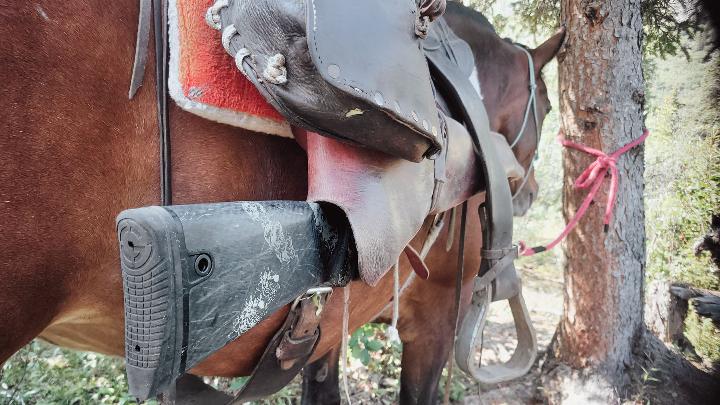 The guide Quinn and the wrangler Matt were excellent with horses and excellent with the equipment. One horse spooked and took off through the trees, but it didn't lose any of its load. Watching that rodeo, I worried about my spotting scope, ammo, and everything in the packs. But they were really top notch and everything was secure.
Once camp was set up that evening, we glassed straight up a 3,500-foot vertical wall. There were no sheep on the front so our guide said we would run to the top in the morning and look on the other side. I thought, "Nobody's running to the top of that."
It wasn't until we were sitting around having dinner that night that I realized Quinn was half my age. I'm only 42, but in my head I feel like I'm in my early 30s and can still conquer the world. But when you realize your guide is half your age, that's a bit of a wake-up call. He was in super shape and it's awesome to have someone who'll work so hard to help me achieve this dream.
We did a quick sprint up to the top the next day and located four rams, but they were way off against the Kluane River. Quinn said we'd be better off looking for the other 11 rams, so we went down, packed up camp, and moved on. We backpacked for the next few days looking for those other rams. We camped mid-mountain the first night, summited the next morning, and found some sheep but no rams. We came down and the next morning, we put the camp on our backs again and kept going drainage by drainage looking for those sheep.
There was a turning point around day 4 when we found five of the rams. Quinn studied them through the spotting scope and said none were of legal size. Then we found the other four. They had picked up a couple more, but they were way across the valley on the other side of the mountain.
We all wanted to find a ram to pursue, but Quinn couldn't confirm that one of them was legal. It was a long way and would take a day and a half to get down and over to them. Overall it would be a four-day commitment and we were almost halfway through the hunt. We were starting to watch the shot clock, so to speak. We wondered, "Do we have time to do this?"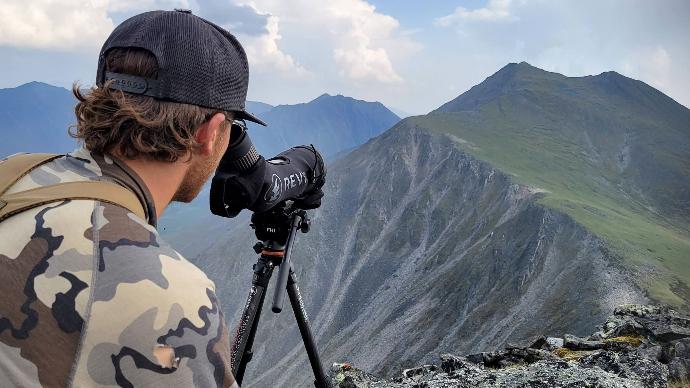 Quinn had never hunted this area. He didn't know the honey holes, hotspots, or water holes. There was no confirmation that we should chase those sheep without knowing there was a legal ram in there. In fact, he said he was 90% certain the rams were NOT legal. But there was one that snuck over the top giving him just a quick look.
I said, "Look, Quinn, if we go across that basin and they're not legal, we can't recover from that. By the time we get back, we won't have a chance to look at the other four that are out here somewhere. I say let's roll the dice. If you feel like there's a 90% chance they're not legal, let's go look at those others."
That was also a commitment, because we would have to go pack up the horse camp at the bottom of valley where we left Matt and spend a day getting all the way around the edge of the Kluane River.
It was essentially moving to the other end of our unit and it felt like a Hail Mary. We were getting to day 5 and we hadn't seen a legal ram yet. There were all these emotions. We were worn out from climbing 1,500 feet and then coming back down. We were not eating food we love, and the miles and the stress were building up. I started to think about what my tag would cost to replace if I had to do it again, and doubt crept into the back of my mind. At this stage of my life, I didn't plan to book another Dall sheep hunt anytime soon. Since COVID, the price of these hunts had become something else.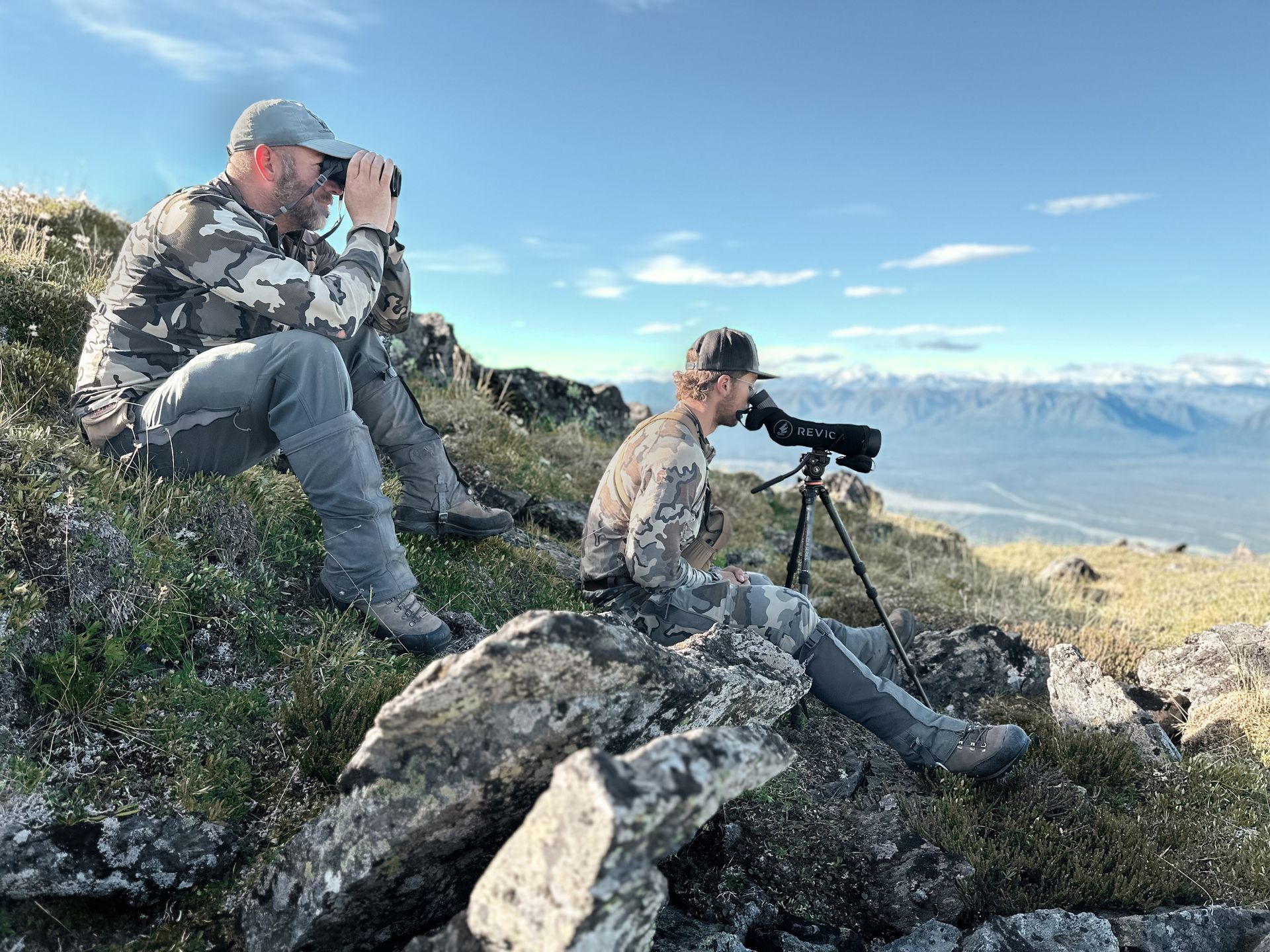 The decision was made. We'd pick up camp, move to the other end of the valley, and try to locate those four sheep. We camped in a beautiful spot with water where we could keep the horses fresh. We thought the sheep should be just on the back side of a nice little 1,000-foot summit, if they were there at all. Of course, they could have gone upstream or downstream, but if they were still where we'd last seen them, they'd be very close.
The next morning, we packed up camp at 7 a.m., put it on our backs, and at 9:45 we found the sheep. We no more than got up on top and there they were. They stick out. You don't even need binoculars, they just glow. They were 2,000 yards away, three of them, not four. We spent some time glassing them. We got out our Revic spotter and Quinn looked them over and said, "Garrett, we've got a winner. I want to look at him at 450 yards before I let you pull the trigger, but I think we have a legal sheep in there."
Great. I looked left and right. To the left was a decent little loop around to get behind them, with tons of real estate behind them where we could come around, but the wind was wrong so we couldn't do that. I got on my onX app and marked the sheep's location and we ended up hiking about six and a half miles around the other direction, sidehilling behind some mountains and losing all our elevation. We climbed back up another couple thousand feet and I didn't pull the trigger until 9:40 p.m.
It had been 12 hours since we left camp; it was a long death march. We were all exhausted. The wind was howling. It was grueling and we were probably within three-quarters of a mile from peeking over and looking down on them, if they were still there. It'd been six hours since we'd last seen them.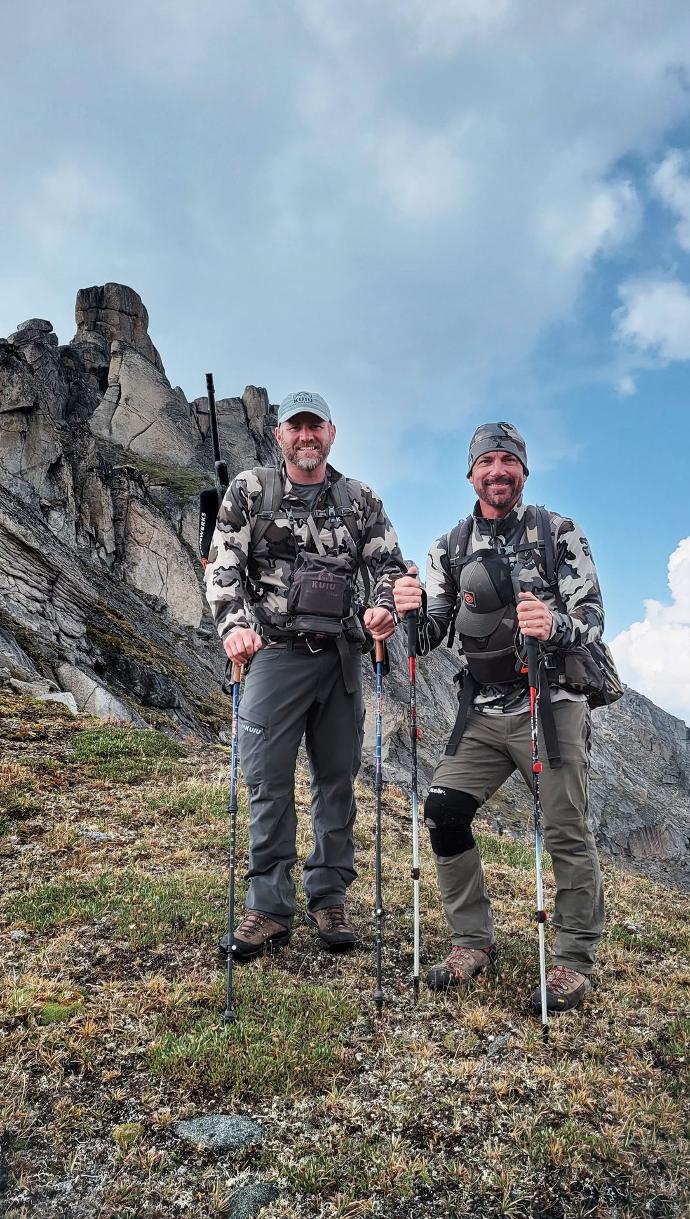 I stopped Kregg and just put it on the line. This is it, this is our last chance at a ram. It's not like we could just keep riding horses, hoping sheep would show up. It was do or die, and the wind was howling. I clocked it on my wind meter at 25, spiking at 30. Kregg said, "Look, you've got the best equipment in the world. You've had the best training. You've done this forever. You can do this." Then he just kept walking, and I was thinking, "OK, well, I hope he's right."
It probably couldn't have worked out better. Quinn poked over the rise and the sheep were right there. He spent two minutes verifying we had a legal ram, then he called Kregg and me up.
Anytime you're hunting with a camera in tow, it means a delay. There's more commotion, more movement for the sheep to see, but we got into position without being seen. The wind was still howling. I had a perfect prone shot at about 480 yards, but I didn't connect on the first shot. The wind was ripping. But I made a good wind dope, got a follow-up shot, and hit him. The sheep all kept working toward the top but then the ram got that death sickness and started wobbling. He fell and rolled back down the hill.
It's hard to express the swing from "Is this going to work?" to "It couldn't work!" to "It's not going to work," to "We've got a sheep down!" That's a lot of emotion in a very short period of time.
But back to my first shot. I have the benefit of the video footage, like a replay in sports, but here's what it was like at the time. The wind was howling. I had my Revic rangefinding binocular with my ballistic solution to tell me the corrected range based on the ballistics of the 6.5 PRC. It accounted for the slight downhill slope and the elevation, all relevant information. In a perfect world, I'd have a stream of communication with the others. But it was so windy, they would have to shout for me to hear them.
I didn't feel like I was on an island, but I felt a bit isolated. I grabbed the range with my rangefinder binos. I've shot this gun for a long time. It shoots lights out, good out to 800 yards. I wouldn't shoot a sheep at that distance, but I was shooting pie plates at 800 yards up until the day I left.
When I shot, I didn't get back in the scope quick enough to see where it hit, and nobody called it. They said it was a miss but couldn't give me any correction. I was confident in my equipment and preparation. I took another quick range reading. The sheep had moved, walking almost parallel to us, but they weren't spooked, probably because of the wind. I felt really good about my window, so I squeezed the trigger and it center-punched him right in the 10-ring.
Going back to the shot on video, I can see the shot was just a tad low. I don't know if it was buck fever or the emotion. It could be a million variables: the rear bag pressure, the loading of the bipod, those kinds of things. The backdrop of the animal was perfect and I felt like I got a really good range, but sometimes we don't execute the perfect shot. I won't make any equipment excuses because I know it was doing exactly what I wanted it to do. If you question your gun, you might do something different—the emotion might set in. But I felt more confident in my equipment than in myself. I repeated the steps and it was the right decision. He was at 508 yards, it went right in the lungs, and that was it.
The celebration? It was 9:45 at night and we were gassed. We'd been on the hoof for 14 hours, for seven or more miles, and not eating along the way. We were done. Luckily, after punching our tag on a sheep, the adrenaline kept us afloat. We had a couple hours of trophy care, caping, taking care of meat. Then about 1,200 feet of descent to the valley floor where we set up tents for the night. We climbed into our sleeping bags at 2:30 a.m. and slept for a few hours, then got up and headed out with very heavy packs. I've heard that once your sheep is on your back, you're so pumped you can't even feel your pack. Well, that's false.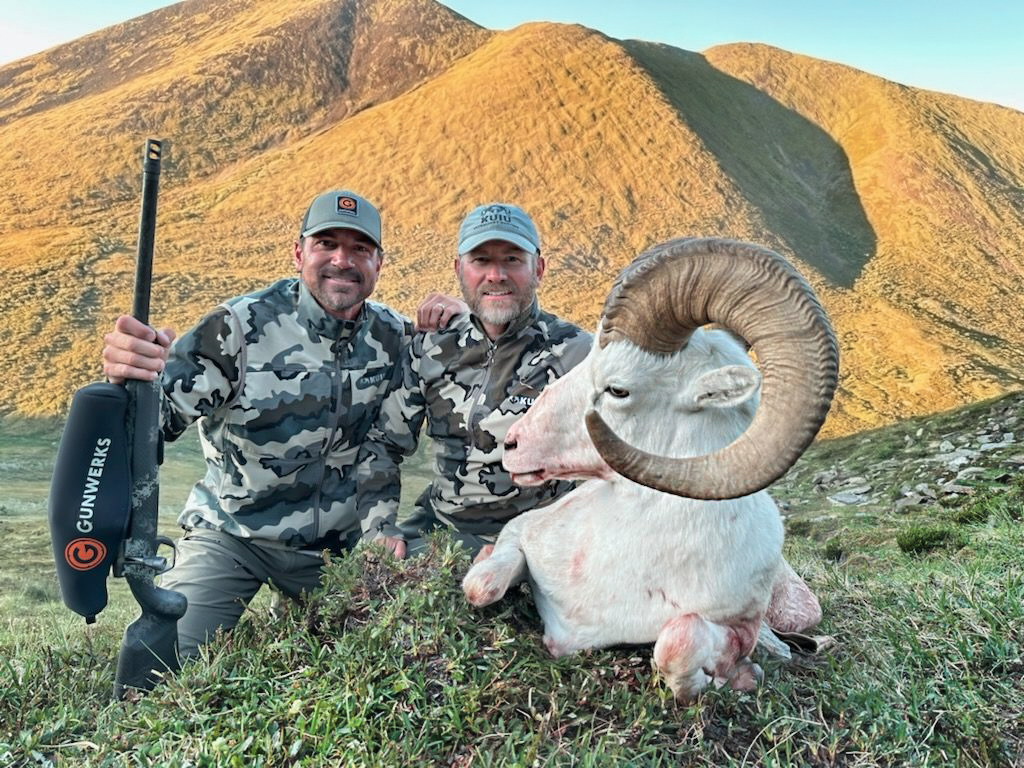 Obviously, the pressure was off. It was just a matter of taking it slow and embracing the victory, the surroundings, the whole experience. It took another full day to get back to the horses, where we finished fleshing the hide and packing. We didn't have time to pack the horses and get to the cabin that night, so we did that the following day and flew back out to Burwash Landing on day 8.
Looking back, it's funny how everything came together. It was a physically taxing hunt. We needed to be in good shape, but it was just as much a mental challenge. July and August are really busy at Gunwerks—people are trying to get out on their hunts so we're rushing to get rifles to them. Even though I was gone hunting in the Yukon, I had a lot on my mind. "How are things going back home and at the office while I'm gone for 14 days?" 
Physically, I lost 14 pounds. I wasn't eating well and I was stressed. I'd eat half a Mountain House dehydrated breakfast and then hike all day. It wasn't the best thing to do. I had headaches, was dehydrated, and the pressure of the hunt was on my mind. The thought of how much money I had on the line, the sacrifice, the planning. And we were doing this to help our business and produce a TV show. It wasn't just the personal satisfaction of putting a trophy on my wall. We're helping tell the Gunwerks story, testing product, and all the things that go with it. I take it very seriously and it adds a layer of stress, especially for a head case like me.
There was a lot of up and down hiking, carrying our camp on our backs. It wasn't so much the elevation, but the climbing up and hiking down. I pulled the trigger at around 6,000 feet and the valley floor was about 3,500. I think we got to 6,500 feet at our highest points. We were pretty much at the top of the Yukon Range.


In Wyoming we have higher peaks, 10,000 feet in places, so I'm familiar with mountains. But this was sheep country, straight up and down, everything from slippery shale to swamp. As we walked, it felt like we were on one of those moving walkways at an airport, but it was working against us.
When I think back, the whole experience was one memorable event after another. Having WTA's experienced staff behind me from the start, through five years of planning and anticipation, and especially helping me scramble and overcome all the obstacles of getting to the Yukon. I couldn't have pulled it off without them.
Then, there was Quinn and Matt. They worked so hard to make everything work for us. Essentially, we're putting our lives in their hands. Did they pack enough fuel for the cooking stoves and enough food to last us until we made it back to where Matt took care of the horses that would carry us out of the wilderness? We were all the way back in there and if the horses can't get us out, there's nobody to rescue us. It's not like we can call the reserves to come get us. It's rugged and remote and, man, those guys did awesome for us. It was a lot of fun to be part of the whole experience.
It all came together and I got my ram. He was seven years old and I don't even know what he scored. Quinn put a tape on him to gather some required info for biological reports and recordkeeping, but quantifying the experience with the length of the horns wasn't something we jumped into. I'll measure him when he gets here, but he was a full-curl, beautiful sheep and I couldn't be more pleased. It was an awesome experience, especially getting to do it with Kregg. He and I have hunted all over the world and I'm very lucky to have someone reliable and supportive. Sure, my name was on the tag, but I wouldn't have gotten it done without Kregg. And having photos and videos to document the experience is awesome.
(Originally written and posted by WTA)