#GUNWERKED
2021 WINNERS ANNOUNCED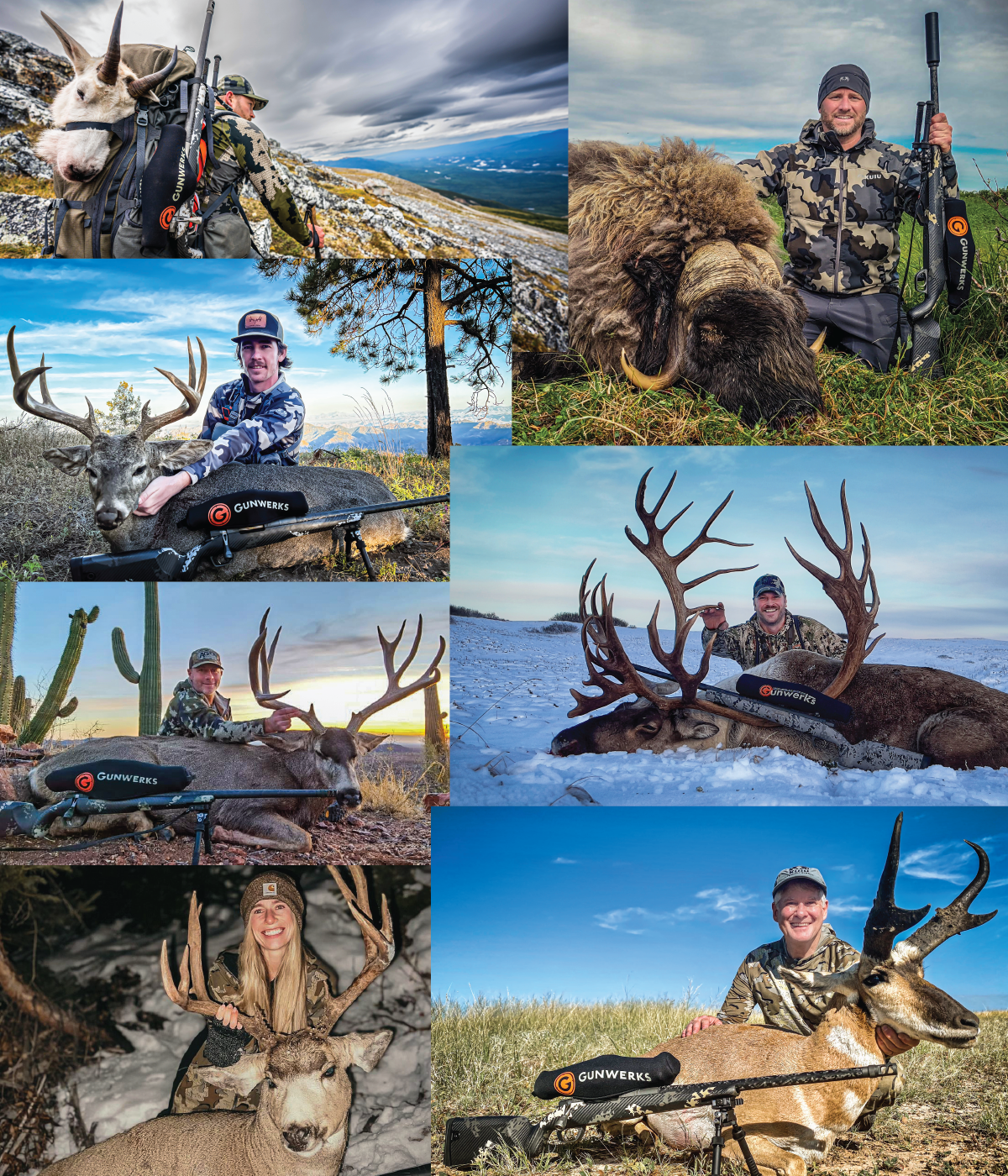 CUSTOMERS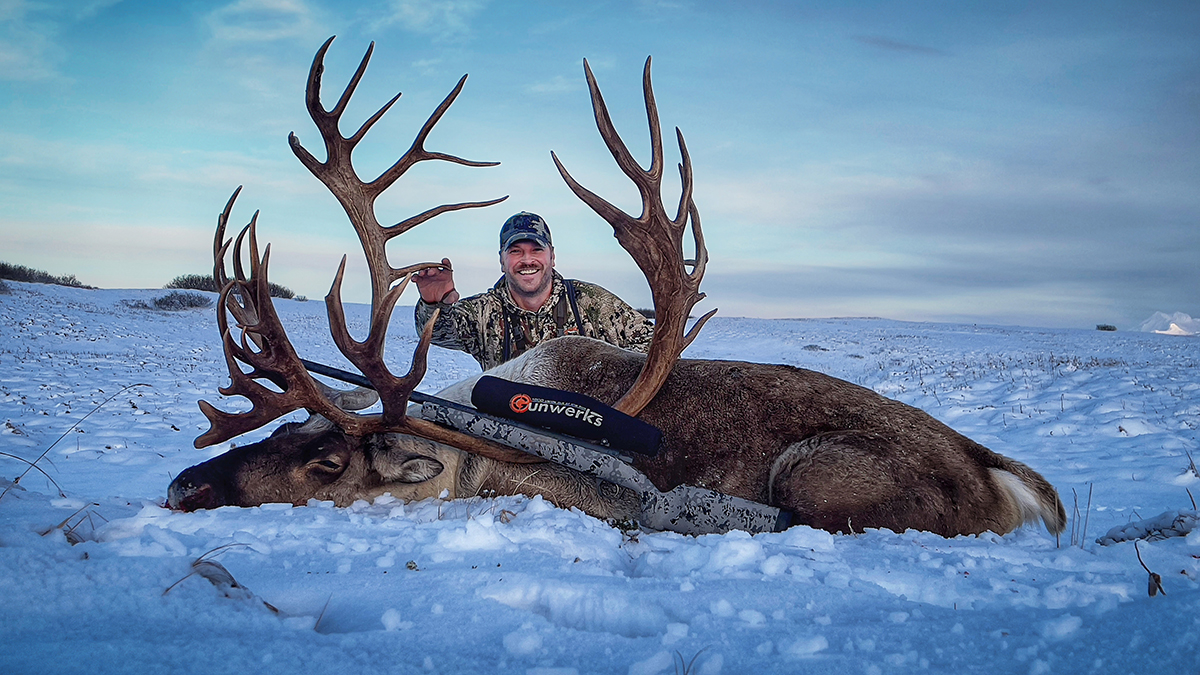 Mark Schwantes
438 3/8" Alaska Caribou
Rifle: Gunwerks Magnus 30 Nosler
Wins: Gunwerks Rifle (Winner's choice ClymR, Magnus or Verdict)
"There are a lot of things to think about on each hunt. Removing any guesswork involved in making my bullet go where I want it to allows me to focus on the reticle and send it. Without the confidence in my equipment I may not have had the time to make a perfect shot on this old bull.

This was my first hunt with my new Gunwerks 30 Nosler and the new Revic BR4 rangefinder. Once locating the group of caribou I had been watching, I realized my only stalk was from upwind. I knew I didn't have time to spare. By the time I made it into shooting position atop a knoll, a cow in the group winded me, which alerted the three bulls nearby.

Even though the shot was only 200 yards I didn't have to second guess anything after crawling through the snow and setting the rifle on a boulder. The giant old bull was seconds from escaping into the alders. I put the crosshairs low behind the shoulder and followed through on my pull. He didn't make it 30 yards and I had taken the caribou of a lifetime scoring 436 3/8"!"
Jonathan Erickson
Sonora Mule Deer
Rifle: Gunwerks ClymR 28 Nosler
Wins: LRU Combined New Mexico L101/201 & Antelope Hunt
"A few years back a friend of mine suggested that I take the Gunwerks shooting school, needless to say I was hooked! I was not only completely impressed with their shooting system, but their employees were top notch. It is unbelievable to purchase a gun that is out of the box ready to hunt. With complete accuracy my 28 Nosler ClymR has helped my kids and myself fill numerous tags of various species.

The beginning of January 2021 I took my 28 Nosler south of the border in search of a great desert muley. Once again, my ClymR did not disappoint me and my tag was filled on day one. Two weeks later my son and I were south bound to New Mexico in search of aoudad. Without any yardage hesitation, my son sealed the deal at 450 and myself at 625."
Jim Schmid
New Mexico Antelope
Rifle: Gunwerks ClymR 7LRM
Wins: Revic BR4 Ballistic Rangefinder
"I wanted to thank all of you for making my recent attendance at LRU both educational and memorable. The amount of information presented was impressive, and the practical application made it relevant and useful. I had my first chance to put both the new skills and my new 7LRM to the test, on a recent pronghorn hunt at 450 yards in New Mexico. Without having the knowledge and skills learned at LRU, there's no way I would have been successful with those shots. Special thanks to everyone at Gunwerks who help create the products and teach the skills to make us more effective hunters. Looking forward to putting these to good use, on future hunts!"
Each year we encourage our partners, outfitters/guides, and Gunwerks team to submit their best photos. We select one partner, one outfitter/guide and two employee winners.
Hunter McGaughey - G3 Outfitters
Rifle: Gunwerks ClymR 6.5 PRC
Wins: BR4 Ballistic Rangefinder
"When it comes to that critical moment on a hunt for me or for my clients, one piece of equipment I never have doubts in are my rifles from Gunwerks. The 6.5 PRC ClymR and the 28 Nosler Magnus are tack drivers. Whether it's 77 yards on a big coues buck or 900+ on big bull elk, one thing I know for sure is that the bullet is gonna hit where I want it to."
Trousdell Media
Mountain Goat
Rifle: Gunwerks ClymR 7 Rem Mag
Wins: BR4 Ballistic Rangefinder
"Backpack Stone Sheep Hunt. September 2021. Day - Six. Mile - Unknown. Northeastern BC
I watched with baited breathe as my brother's Gunwerks Magnus barked, and a single 168gr Berger arced through the cliffs. We'd spent what felt like hours carefully studying the goats to choose the most mature billy. Sliding carefully into position to spot for him, I knew this could impact my success on rams. I'd thrown every bit of myself into this sheep hunt, but Mark had told me he wanted to take a good billy if the opportunity arose. The sheep will wait another day for me, but watching my brother stare out across the valley with his first billy strapped to his pack is a memory I'll never forget."
TEAM GUNWERKS

Garrett Wall & Kregg Thomassen

Alaska Musk Ox
Rifle: Gunwerks ClymR 6.5 PRC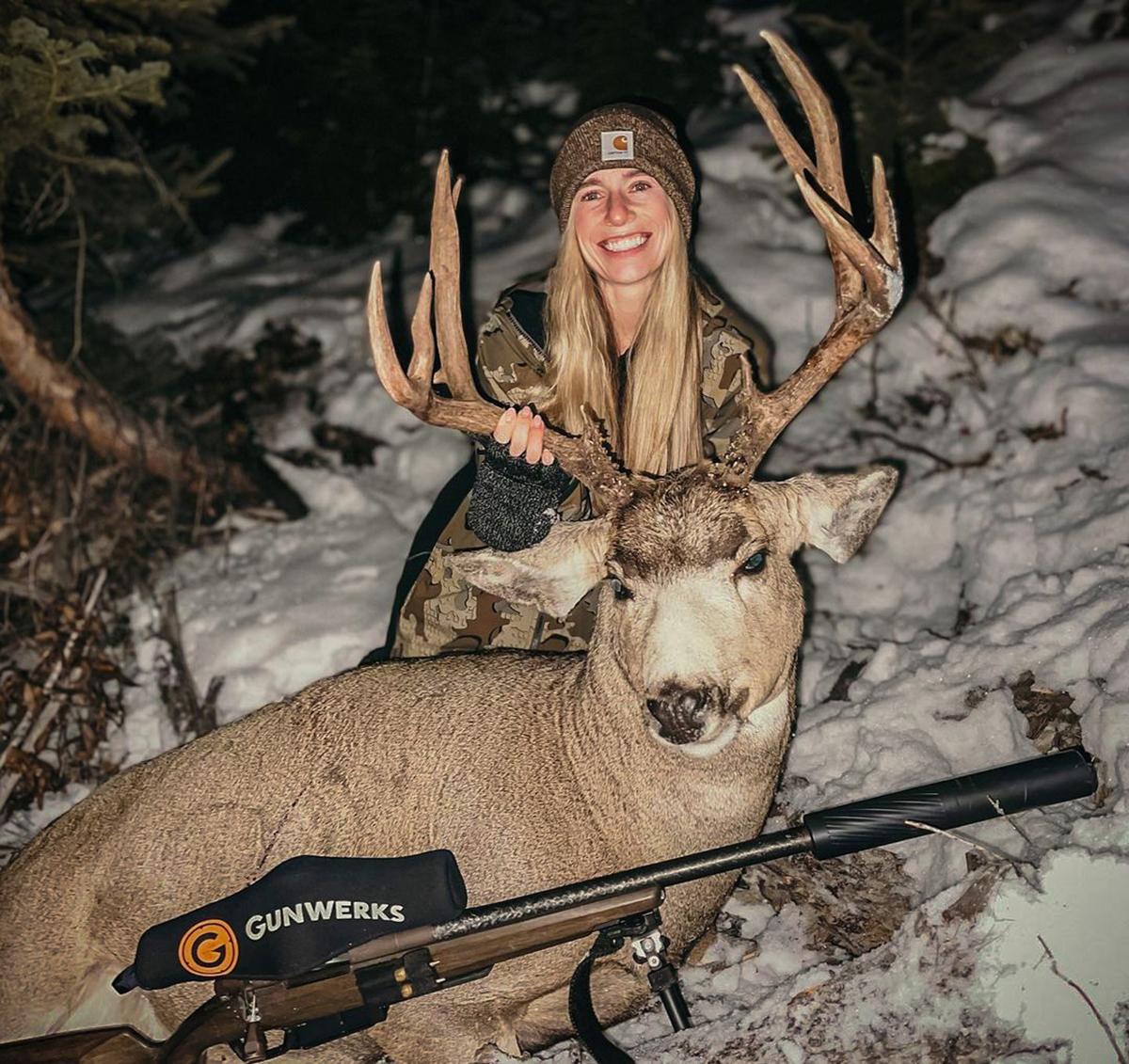 Mitch & Jerica Libby
Wyoming Mule Deer
Rifle: Gunwerks Magnus 7SAUM