When I read hunting stories, I always want to know more about the hunter's equipment. I bet you're the same. Here's a rundown of the rifle system I used on my Dall Sheep hunt that I discussed in my previous article, The Challenge of Dall Sheep. 
Gunwerks has a wide range of rifle models, but two main hunting rifle platforms. If you call and say you want to hunt western big game, we'll recommend a ClymR or Magnus. The Clymer is a little lighter than the Magnus, has a slightly lower profile stock, and has a shorter 20″ barrel. I run a Gunwerks ClymR.
Mine is chambered in 6.5 PRC and it shoots excellent for me. I have all the confidence in the world when I shoot it. I run it suppressed with our 6ix stainless steel suppressor most of the time. Unfortunately our Canadian friends do not support that, so I put a muzzle brake on it, which is miserable compared to a suppressor. With a suppressor, it's about 9 ¼ pounds. My rifle scope is the Gunwerks Revic Acura RS25i. More about optics in a minute.
I love shooting these lighter-recoiling guns. I was shooting a 140-grain Berger bullet that Gunwerks custom loads. It has a high ballistic coefficient. It deflects wind nicely and is an efficient round. It hits hard and it's very capable. I'd hunt elk with it, no problem. It would be a little light for a tussle with a big bear. In fact, if I was hunting bears I'd probably go 7mm.
There's a balance between portability and shootability. We want people to shoot as heavy a gun as they can, because they'll shoot it better than a light rifle. People like to pack a light gun, but the easier it is to pack, the harder it is to shoot consistently. I shouldn't say never, but it's very difficult. When you get a gun in the high 8-pound to mid-9-pound range, it's really comfortable and something you can pack around and still shoot really well.
That brings us back to optics, specifically optics capable of providing ballistic solutions. In my opinion, shooting solutions are different from hunting solutions. Shooting solutions put you at a bench with plenty of time, maybe even 10 minutes, to make the best shot. You can use a rangefinder or rangefinding binoculars and make all of the adjustments. But in a hunting situation like my ram hunt, split seconds count.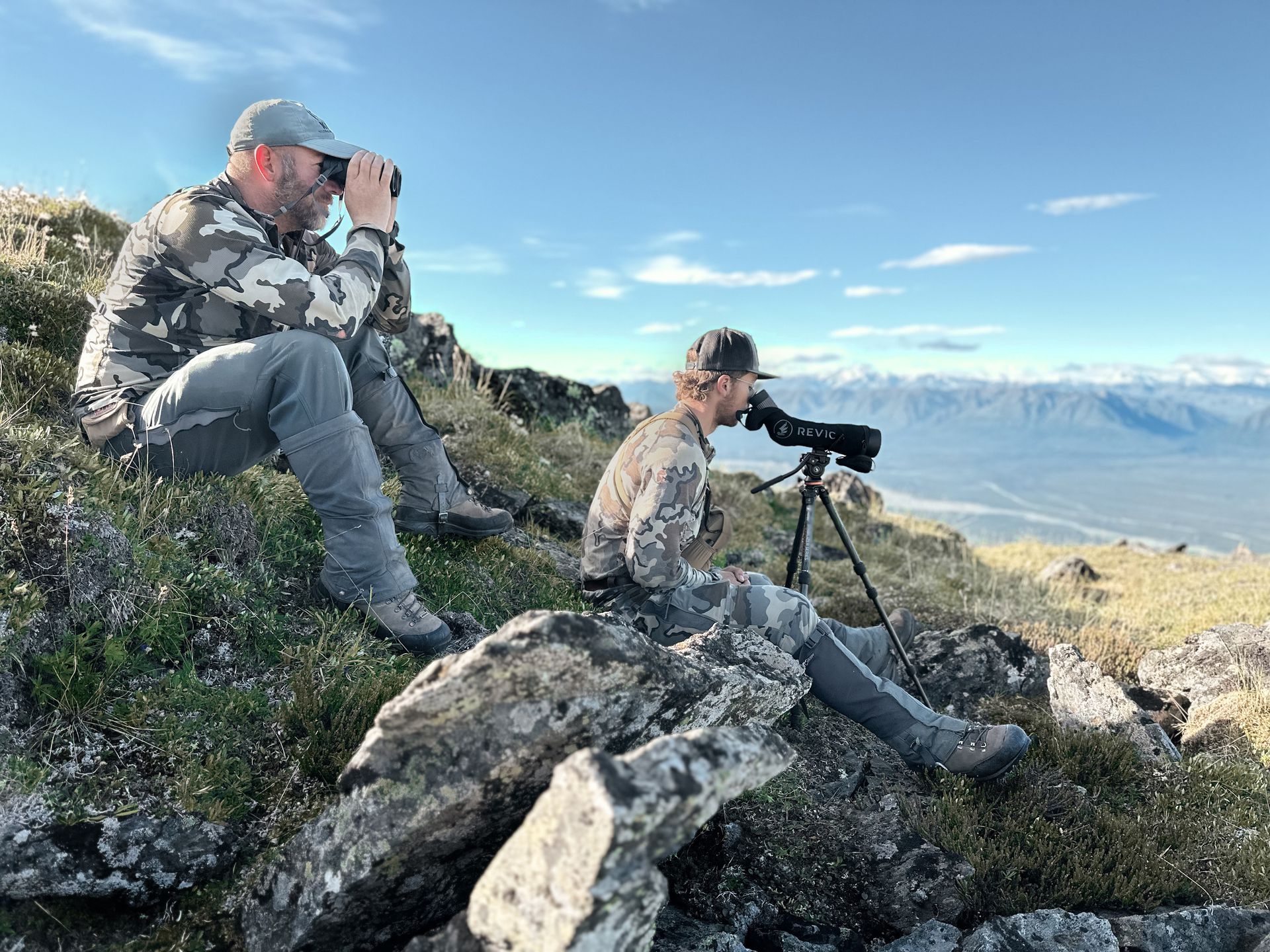 In addition to my rifle scope, I used my 10×42 Revic Acura BLR10b Ballistic Rangefinding Binocular. With the press of a button, they measure temperature and air pressure, combine the ballistics of the ammunition with the range and angle of the shot, and instantly output my shooting solution so I can adjust my scope turrets. This takes place within fractions of seconds. And that's what I needed because in another few seconds, the outcome of my hunt could have been different. You wouldn't be reading this and I wouldn't be looking at amazing photos of my Dall sheep on my computer.
I also carried the BR4 handheld monocular with the same ballistic solution technology as backup, and Quinn carried my Revic Acura S65a spotting scope. The ballistic-capable optical technology has been in the works for years and is now available from Revic under the Gunwerks umbrella. The Revic series includes binoculars, monocular rangefinder, spotting scope, riflescope, and an open sight setup for muzzleloader hunters.
So that's my plug for A) knowing your equipment well, and B) having the ballistics solution to make the shot.
When it comes to rifles, we're creating a complete system. We design and manufacture most of the rifle parts. Right now we're not making the triggers and a couple of the optical products, but outside of that we make everything: barrels, stocks, rings, bottom metals. All the components are designed as a system. Most competitors take a stock from one company and a barrel from another and an action from somebody else to build their rifles. I'm not knocking that—they aren't bad products or companies. They just don't have the ability to dictate design aspects for the whole system, for example, a negative comb on the stock or how the picatinny rails integrate. We do. We have a full engineering staff. We design these guns to behave and look and shoot in a certain way, from balance to recoil. 
A lot of companies aren't to the level to have full control over their entire system. They are what we call assemblers, grabbing parts off the shelf from other companies and putting them together. Can you get guns that shoot good groups on paper? Certainly. I'm not saying what they're doing is bad. I'm just explaining what we're doing. We'll keep refining and tweaking because we have the designs and technology to keep making it better. We don't have to wait for Company A, B, or C to improve their products a little so our end product gets slightly better.
We're selling a turnkey system. If you were going on this Dall sheep hunt, I would have sold you this gun, and it would have showed up ready to shoot 1,000-yards out of the box. Now, a lot of people will say you shouldn't shoot an animal at 1,000 yards. If that's your opinion, fine. But you should still practice at 1,000 yards, because when you move up to 400 yards, it feels like a chip shot.
And if you're capable of doing that and then you bring the Revic options to the table, well, it's fun. That's what's great about Gunwerks. We've been able to integrate and bring processes in-house so we can be innovative, increase features for our customers, and drive down costs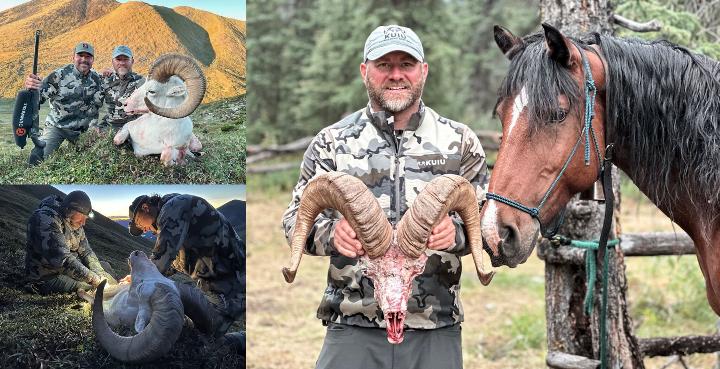 The whole thing is fun: the shooting, the hunting, the whole experience. And isn't that the point?