Skunkwerks Rim Reaper Rifle System.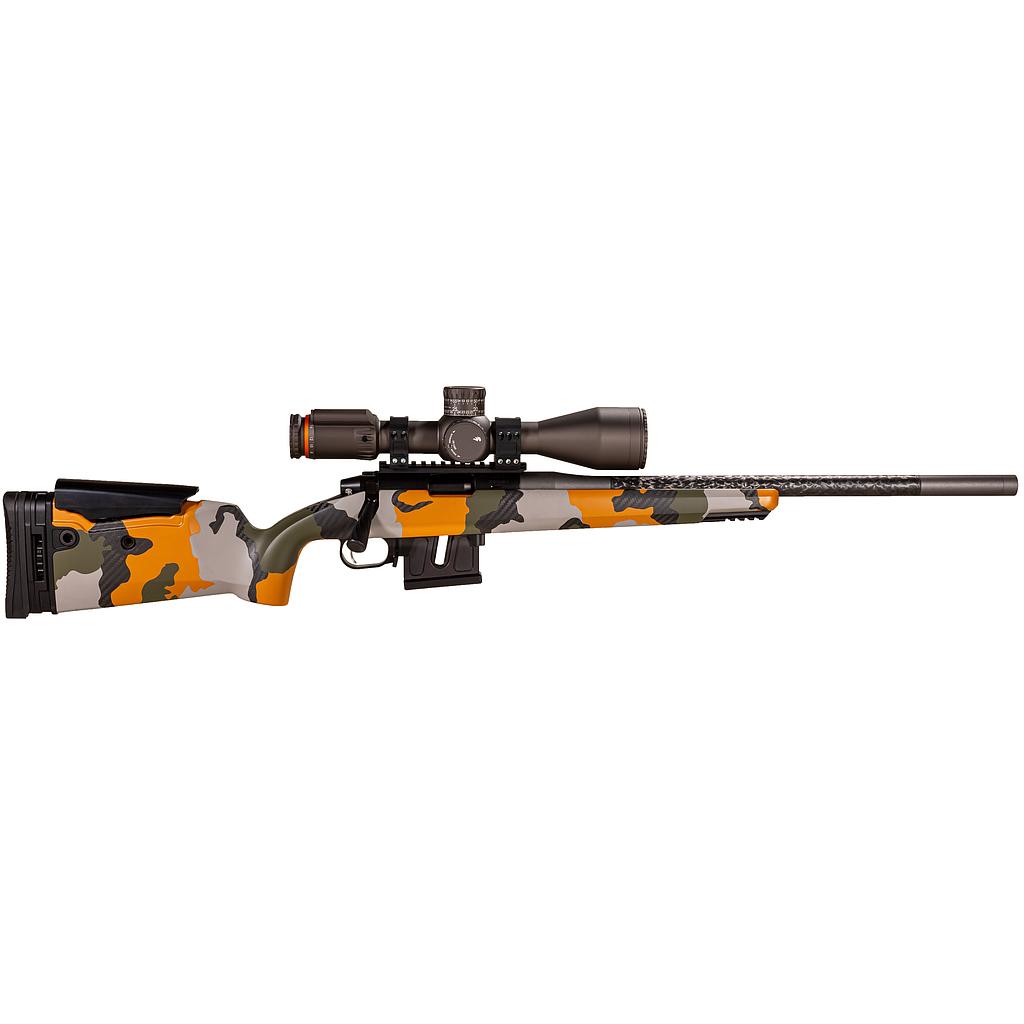 Skunkwerks Rim Reaper Rifle System.
This product is no longer available.
---
A limited run of .22 LR trainer rifle systems built on the famous Gunwerks Magnus platform. Designed to handle and shoot like the Magnus centerfire rifle system, the Rim Reaper means better practice and more enjoyable trigger time for you and your family.
Includes:
Gunwerks Rim Reaper .22 LR Rifle System

Revic PMR 428 Smart Rifle Scope with RX1 MOA reticle

Carbon wrapped weight forward barrel, threaded 5/8x24

Adjustable carbon Magnus stock with Tectonic Orange finish

Extra Rim X .22 LR magazine

Bore Tech Cleaning kit and rod

1000 rounds of Eley Tenex .22 LR ammunition

Inflection 200 round waterproof bullet box system

SKB Skunkwerks custom hard travel case
LR STANDS FOR LONG RANGE
CUSTOM DRAG MODELS
500 yards on steel is a real possibility with the combined precision and trued ballistics in the Revic PMR Smart Rifle Scope. Where essentially every other rifle on the market requires in-depth tweaking of ballistic programs (usually involving some trial and error), the custom ballistic data with this system provides a true custom drag model capable at extreme ranges - right out of the box. 
JUST LIKE ITS BIG BROTHER
The Rim Reaper handles, shoots and cycles just like its big brother, the Magnus. With the ease and comfort of shooting a rimfire and the same ergonomics of your big game rifle, it's easy to put 100 rounds through the bore in a casual range session (try that with a 28 Nosler!). This means more trigger time, more practice, and better shooting when it comes time to pick up the big gun. 

LESS IS MORE
The diminutive .22 LR is the ideal practice round, whether honing your skill, or introducing beginners to the sport. Lighter recoil and less muzzle blast makes a range session much more enjoyable and promotes better form and less flinch.
Lower velocity and less aerodynamic bullets also make the .22 LR much more difficult to shoot at longer ranges and compensate for wind, making it the ideal training tool. Hitting steel at 300 in a light breeze with the .22 makes 1000 with a centerfire in heavy wind feel like cheating!
BUG HOLES
squeeze every bit of available precision out of your rifle. The weight-forward carbon wrapped barrel is engineered to improve barrel harmonics and balance the rifle properly. Better yet, screw on a suppressor to the threaded 5/8x24 muzzle and carry on in peace and quiet.

ALL THE ADJUSTMENTS
The newly available Magnus Adjustable Cheekpiece adds another dimension of customizability to the already supremely versatile Magnus platform. The raising and lowering cheekpiece rounds out the adjustability options along with Up/down and cant adjustments in the recoil pad and modular length of pull.
CALIBER: .22 LR
ACTION: Rim X Bolt Action
STOCK: Gunwerks Carbon Adjustable Magnus
BARREL: 22" Carbon Wrapped, Weight-Forward Barrel, Threaded 5/8x24
MUZZLE DEVICE: 5/8x24 Suppressor Ready
TWIST RATE: 1:16
METAL FINISH: Nitride & Tungsten Cerakote
OPTIC: Revic PMR 428 w/ RX1 MOA Reticle
BALLISTICS: Custom Drag Model Programmed in Revic Scope
RINGS: Picatinny with 40 MOA Base
MAGAZINE: Includes Two 10 round Rim X AICS pattern magazines
TRIGGER: Trigger Tech Special set @ 2lbs
LENGTH OF PULL: 13.75"
TOTAL WEIGHT: 13.0 lbs
"It's easy to put 100 rounds down range in a short session with this setup. More trigger time means more practice and better application when it comes time to pull out the big guns!"
- Bennett Mabee