Armageddon Gear Full Kit - All Options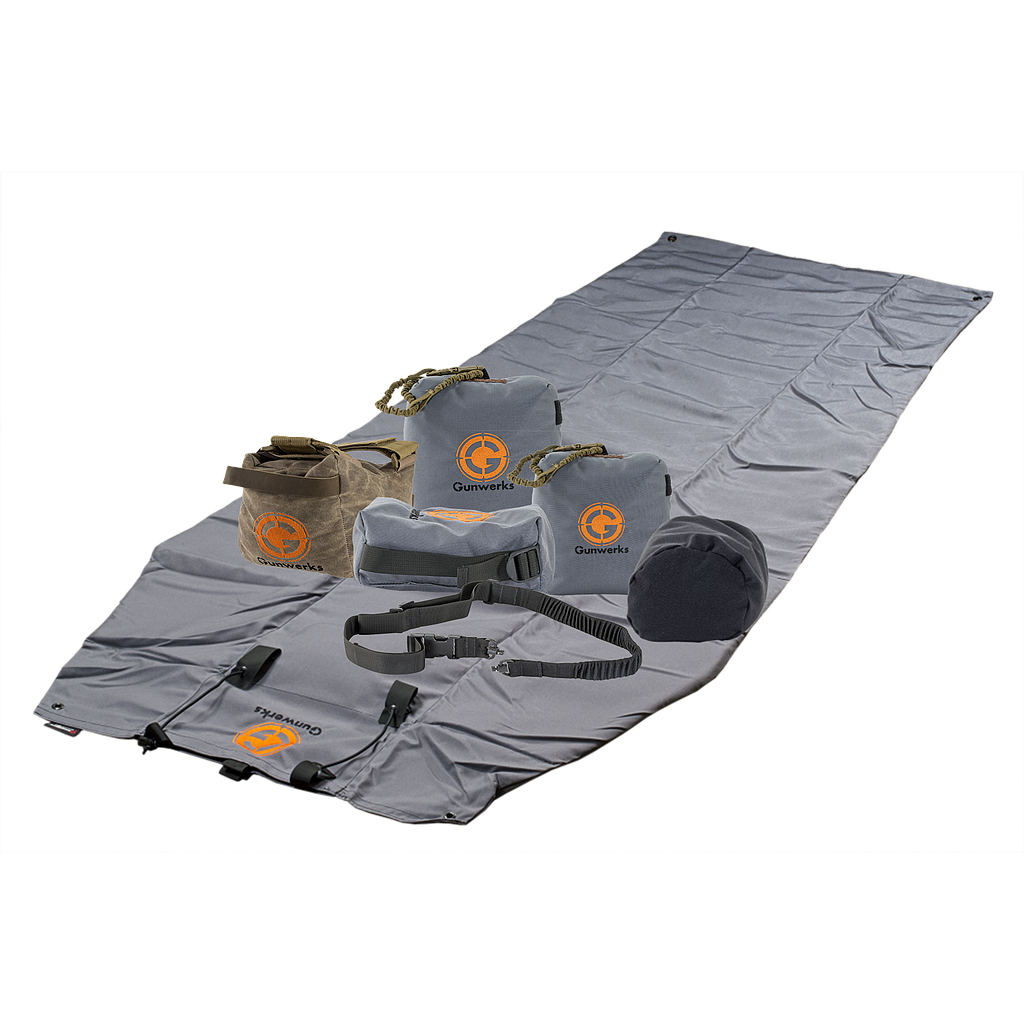 Armageddon Gear Full Kit - All Options
This product is no longer available.
---
Specifications:
Ultralight Mat: Weight 1.9lbs, thickness: 1/8" closed-cell foam padding

Squishy Rear Bag: Weight 1.6 lbs.

Python Bag: Approximate dimensions: 7"x6"x2.5" depending on adjustments, 

Fat Bags: Weight: 7.4 oz (Medium); 11oz (Large), Dimensions: Medium 9"w x 10"l x 4.5t, Large 9"w x 11"l tapered from 4"-7" thick

Made in the USA: All Armageddon Gear items listed above have been manufactured in the USA!
Armageddon Gear Full Kit Overview
We have teamed up with Armageddon Gear to offer you some of the best shooting accessories on the market to complete your long range system! This is our elite kit. Which means it comes with all the goodies! The Ultralight Shooting Mat, Squishy Rear Bag, Large & Medium Fat Bags, Python Adjustable Support Bag, Game Changer Shooting Bag, and Precision Rifle Sling equipped with a QD swivel. Equiped with these items and your Gunwerks shooting system, you will be adequately prepared for any situation.
The Armageddon Gear Ultralight Shooting Mat is the ideal solution when you need a compact and easy to carry shooting mat for competition, training, hunting, or tactical use. Rolls up tightly into a self-contained bundle with adjustable bungee retention for convenience. Features a handy pocket with Velcro-closure to secure your Kestrel, DOPE cards, extra data boards for your Competition Data Armband, spare batteries, pens or other items. Milspec 500D Cordura nylon offers rugged durability while 1/8" closed-cell foam padding provides ideal comfort for your elbows and upper body.
The "Squishy" support rear bag is so versatile you'll find yourself using it every way imaginable. The round cross-section allows universal orientation in the hand and the stretchy Tweave shell ensures maximum conformance with the support surface and complete contact with the rifle stock, letting you really sink into position. This provides a totally different feel from any other bag. The strap is made with overlapping Velcro-lined sections that allow the bag to be attached to a rifle stock, handguard or forend, tripod head, shooting sticks, pack, or wherever needed.
The Armageddon Gear Precision Rifle Sling has now updated with proprietary bungee webbing for enhanced comfort and kick-ass looks! We've worked with our mill for the last couple years to perfect this new bungee webbing. It offers the same strength, same stretch as the sewn-together bungee section of previous Precision Rifle Slings, but with a softer texture and rounded edges to make the Armageddon Gear Precision Rifle Sling better than ever. It is a highly versatile tool that can be used as a patrol/assault sling, yet also provides support when firing from alternate positions. No other sling allows shooters to "Sling in" to a sling-supported position and unsling from that position as quickly and easily as the Armageddon Gear Precision Rifle Sling.
The Python Adjustable Support Bag is perhaps the most versatile shooting support bag on the market. Designed by "the Python" himself, Shannon Kay of K&M Precision Rifle Training, , this may be the ultimate one-bag 90% solution. Filled with a 50/50 mix of our heavy and ultralight fill and adjustable for hard or soft support via the dual one-inch webbing straps, the Python can be shaped and sized for any situation or barricade. The Python is smaller and lighter than the Game Changer and Fat Bags, but bigger than the Grippy Brick and Flat Bags.
The Game Changer provides the ultimate in versatility and stability when shooting from barricades, fenceposts, window openings, and just about any other irregular surface. Almost five pounds of pelletized-polymer fill gives the Game Changer just enough weight to form around the shape of supporting objects to create a rock-solid and steady for support of your rifle, even allowing you to go hands free for glassing, ranging, changing mags, or other tasks. Sturdy webbing handles on both ends for grab and go portability plus removable velcro-lined straps across the top of the Game Changer ensure that you have multiple configuration options when it's time for the shot and portability afterwards. Hidden zippered opening allows the addition and removal of fill for a customized bag weight and firmness.
Armageddon Gear's Fat Bags are an ultralight and versatile solution to a rifleman's need for weapon and body support in the field and on the range. The Fat Bags feature a Cordura nylon outer shell filled with airweight beads. Dual elastic straps fasten with Milspec Velcro and can be detached on one end for rapid and easy attachment or detachment to yourself or your equipment. The included Bungee Gear Lanyard and ITW Nexus Tac Link allow easy attachment to belt loops or equipment and easy use in a variety of positions without the need to remove the tether. No other support bag offers the combination of light weight, convenience, security and speed of the Fat Bags from Armageddon Gear! Available in two sizes; a rectangular medium Fat Bag and a tapered-rectangle large Fat Bag BOTH come in this kit!