Texas Aoudad or Elk Hunt with Shooting System Readiness Clinic
Date & Time
Friday
,
December 16, 2022
Start -
8:00 AM
Monday
,
December 19, 2022
End -
5:00 PM
Location
Cibolo Creek Ranch, Training Facility
Cienega Fort
Shafter, TX 79843
United States
--
Cibolo Creek Ranch, Training Facility
--
Directions
Event Contact
Gunwerks LLC
Experience Overview
With this Experience, you will have the opportunity to test your equipment and skill in the Chinati Mountains of West Texas. The Chinati Mountains top out at over 7000 feet and provide one of the roughest mountain hunting experiences available. Each evening you will enjoy the 5-star accommodations Cibolo Ranch is famous for. Your "Experience" will start with our Long Range University 1-day L103 Equipment Readiness course. It's your opportunity to gain familiarity and confidence with your rifle and ensure it is ready for your hunt. A Gunwerks Instructor will assist you in confirming zero, validating the trajectory, and syncing it with your ballistic app or Revic BR4 Ballistic Rangefinder. You will have the opportunity to shoot targets at different ranges, using your preferred support equipment, while receiving instruction on the process to achieve first shot hits. We prefer that you bring your rifle in ready condition, however we can provide a rental rifle if necessary. We can provide troubleshooting if you have a Gunwerks system, which is our preference (obviously)! For your hunt, you will be paired up with another hunter and a guide and spend the next three days hunting primarily low fence Aoudad or Cull Elk (There is one trophy elk available) call for more details. TROPHY FEES ARE NOT INCLUDED IN THE UP FRONT COST. Please refer to the list below of current trophy fees which are subject to change. Ram Aoudad - $4500 Ewe Aoudad - $500 Bull Oryx $4200 (Low fence hunting, sometimes Oryx are there and sometimes they are not) Cow Oryx $3800 Cull Elk - $3500 (Generally a spike or a larger bull which shows visible signs of crossbreeding with Stag) Trophy Elk - $5500 to $6500 depending on size. 320 - 330 inch bulls are possible. (Only one available so call ahead of time if this is what you intend to hunt) Trophy fees will be payable to Cibolo Ranch upon completion of your hunt.
LRU Training Tracks Overview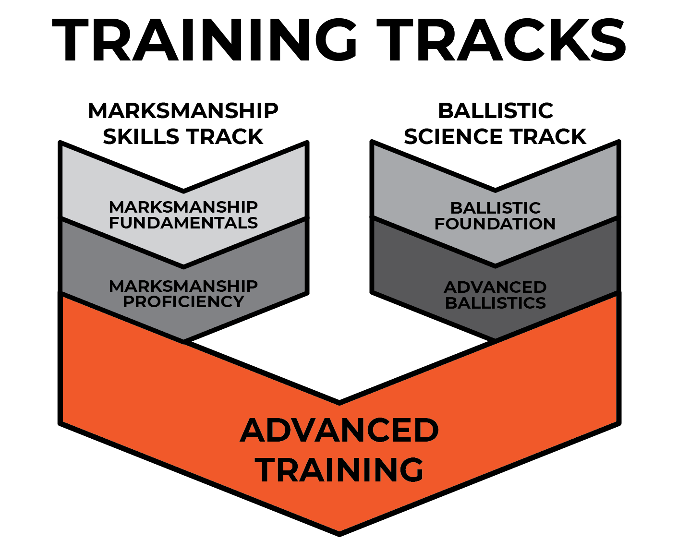 Long Range University
Our course curriculum is always evolving! Over the past couple of years, we have developed a new organization of training content, facilitating a more focused and progressive learning experience. Now our courses are organized into two parallel tracks, Ballistic Science and Marksmanship Skills, culminating in our Advanced training courses.
 
Ballistic Science
The core Long Range University curriculum is contained in our Ballistic Science track. We place a heavy emphasis on the science of long-range shooting. Generally, you will spend time in the classroom introducing concepts, followed by range demonstration and exercise to solidify complex topics.


Marksmanship Skills
The second track is our Marksmanship Skills track where we place a heavy focus on developing shooting skills. Light on the classroom, these courses spend most of the time teaching practical applications on the range.


Advanced Training
When you are ready to test your skills, we offer several advanced courses to challenge you and your equipment in calculated conditions to refine your experience and capabilities.  From mountain shooting venues to pronghorn hunting in New Mexico to a precision rifle competition, we can offer you the opportunity to achieve the next level.
Itinerary
Day
1
Note - Check in at 4:00 PM the afternoon before your event, dinner will be served.

Range - Zero confirmation

Range - Trajectory validation out to 1000 yards. True ballistic profiles as necessary.

Lunch

Range - Skill building drills

Debrief, gear prep
Day
2
Day
3
Day
4
Hunt Day, Depart Ranch upon completion of days hunt.
"A very enjoyable and exceptionally well-produced shooting experience
As expected, the Gunwerks staff are subject matter experts, but beyond that, they're helpful and patient coaches who clearly enjoy working with students..."
- Michael S .
"Cibolo Creek's range offers everything one could want
Plenty of steel targets from 100 to 1000+ yards, and the magnificent terrain offers frequent opportunities to work on wind calls."
- Michael S.
As if that's not enough...
Cibolo Creek offers wonderful accommodations, outstanding food, and ranch staff who go above and beyond to ensure a top-flight experience."

- Michael S.
"I left having made new friends and looking forward to a return trip."
- Michael S.
Previous
Next