Pronghorn Hunt with L102 Fundamentals and L103 Equipment Readiness Training
Tickets for this Event are Sold Out
Date & Time
Start -
8:00 AM
End -
5:00 PM
Location
NRA Whittington Center, Training Facility
34025 U.S. 64
Raton, NM 87740
United States
--
NRA Whittington Center, Training Facility
--
Directions
Event Contact
Gunwerks LLC
Experience Overview
In this event you will receive 2 days of focused long-range training, followed by two days of Antelope hunting under the guidance of professional guides. With this training/hunting experience, you will have the opportunity to test your equipment and skill in the wide-open plains of New Mexico. You'll start with the L102 Marksmanship Fundamentals course where you will review/develop the skills necessary to shoot a rifle precisely from a supported shooting position. It is a great starting point for a beginning rifle shooter and a good back-to-basics course for an experienced shooter. This course is designed to apply to any and all shooting equipment, not just the specialized Gunwerks systems that are exclusively used during shooting exercises. In the L103 Equipment Readiness course, you will have the opportunity to gain familiarity and confidence with your rifle and ensure it is ready for your hunt. A Gunwerks Instructor will assist you in confirming zero, validating the trajectory, and syncing it with your ballistic app or Revic BR4 Ballistic Rangefinder. You will have the opportunity to shoot targets at different ranges, using your preferred support equipment, while receiving instruction on the process to achieve first shot hits. We prefer that you bring your rifle in ready condition. We can provide troubleshooting if you have a Gunwerks system, which is our preference (obviously)! For the hunt, you will be paired up with another hunter and a guide and spend the next two days hunting pronghorn at a ranch approximately 1 hour from the Whittington Center. The hunting outfitter will provide meals and also offers meat processing and taxidermy services for an additional fee. You will also have the option to donate your meat to charity.
LRU Training Tracks Overview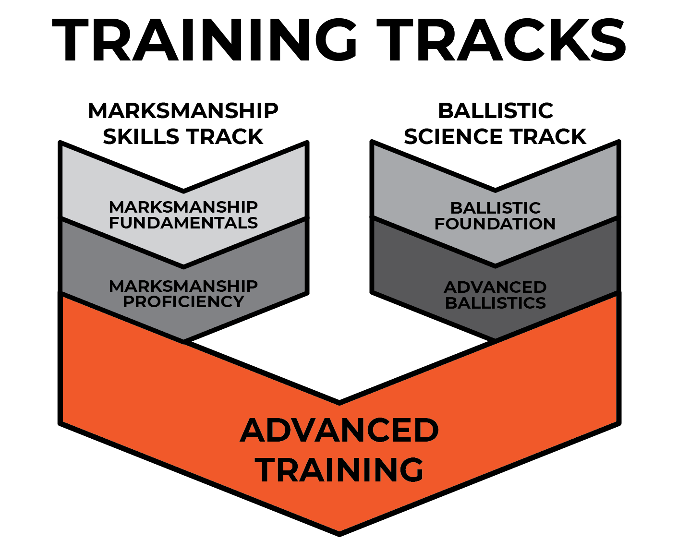 Long Range University
Our course curriculum is always evolving! Over the past couple of years, we have developed a new organization of training content, facilitating a more focused and progressive learning experience. Now our courses are organized into two parallel tracks, Ballistic Science and Marksmanship Skills, culminating in our Advanced training courses.
 
Ballistic Science
The core Long Range University curriculum is contained in our Ballistic Science track. We place a heavy emphasis on the science of long-range shooting. Generally, you will spend time in the classroom introducing concepts, followed by range demonstration and exercise to solidify complex topics.


Marksmanship Skills
The second track is our Marksmanship Skills track where we place a heavy focus on developing shooting skills. Light on the classroom, these courses spend most of the time teaching practical applications on the range.


Advanced Training
When you are ready to test your skills, we offer several advanced courses to challenge you and your equipment in calculated conditions to refine your experience and capabilities.  From mountain shooting venues to pronghorn hunting in New Mexico to a precision rifle competition, we can offer you the opportunity to achieve the next level.
Itinerary
Day
1
Note - Check into the Whittington center the afternoon before your event

Marksmanship fundamentals

Range - Zeroing and accuracy drills from the bench

Lunch

Prone shooting fundamentals

Range - Supported shooting position drills

Range - Practical shooting exercise

Debrief
Day
2
Revic ballistic app

Range - Trajectory validation at 800 yards

Lunch

Range - Practical shooting exercise

Range - Open range, equipment prep.

Debrief, Brief hunt
Day
3
Day
4
Check out of Whittington center housing

Guided antelope hunt

Depart ranch