L102 Marksmanship Fundamentals
Date & Time
9:00 AM
4:00 PM
Location
Gunwerks LLC, Training Headquarters
665 Co Ln 37
Burlington, WY 82411
United States
--
Gunwerks LLC, Training Headquarters
--
Directions
Event Contact
Gunwerks LLC
Experience Overview
The L102 Marksmanship Fundamentals course is a new course for 2022. Historically Gunwerks has focused on teaching advanced ballistics and technology with less time devoted to marksmanship. New for 2022, we have created a separate line of classes with a laser focus on marksmanship. This new format gives us the necessary time to identify bad habits and replace them with proper techniques. The main focus of the L102 Marksmanship Fundamentals course curriculum is to teach the physical skills necessary to shoot a rifle precisely from a supported shooting position. It is a great starting point for a beginning rifle shooter and a good back-to-basics course for an experienced shooter. This course is designed to apply to any and all shooting equipment, not just the specialized Gunwerks systems that are exclusively used during shooting exercises. There are no prerequisites to attending this course. Complete beginners to lifelong shooters and everyone in between will build a solid foundation in Marksmanship Fundamentals during this course. We employ Gunwerks rifle systems and ammunition for this course to facilitate and accelerate the learning process, rifle rental is included in the price. Please do not bring your personal rifle for this course, we've got it covered! Check out the L103 Equipment Readiness course if you are wanting to qualify your rifle.
Long Range University Overview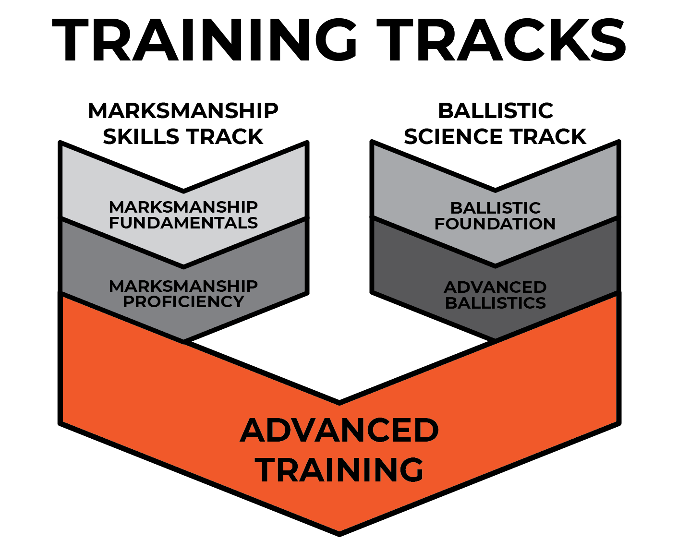 Long Range University
Our course curriculum is always evolving! Over the past couple of years, we have developed a new organization of training content, facilitating a more focused and progressive learning experience. Now our courses are organized into two parallel tracks, Ballistic Science and Marksmanship Skills, culminating in our Advanced training courses.
 
Ballistic Science
The core Long Range University curriculum is contained in our Ballistic Science track. We place a heavy emphasis on the science of long-range shooting. Generally, you will spend time in the classroom introducing concepts, followed by range demonstration and exercise to solidify complex topics.


Marksmanship Skills
The second track is our Marksmanship Skills track where we place a heavy focus on developing shooting skills. Light on the classroom, these courses spend most of the time teaching practical applications on the range.


Advanced Training
When you are ready to test your skills, we offer several advanced courses to challenge you and your equipment in calculated conditions to refine your experience and capabilities.  From mountain shooting venues to pronghorn hunting in New Mexico to a precision rifle competition, we can offer you the opportunity to achieve the next level.
To round out your skills development, this experience is best followed up with
L101 LR Ballistics Foundation
Itinerary
Day
1
Arrival - Please do not arrive at our range facility before 8:30 AM.

Fundamentals of Marksmanship

Range - Zero confirmation and Bench Shooting Techniques

Lunch

Prone Shooting Fundamentals

Range - Prone Shooting Techniques

Range - Practical Shooting Exercise

Debrief