L302 Extreme Long Range Shooting
Date & Time
Thursday
,
September 8, 2022
Start -
9:00 AM
Friday
,
September 9, 2022
End -
4:00 PM
Location
Gunwerks LLC, Sheep Mountain Range
201 Blackburn St
Cody, WY 82414
United States
--
Gunwerks LLC, Sheep Mountain Range
--
Directions
Event Contact
Gunwerks LLC
Experience Overview
The L302 Extreme Long Range course is a new course for 2022. This is a two day course and differs from our other course offerings in that it is not intended as a hunting course. At LRU we have a laser focus on equipment and techniques which are functional and applicable in the real world of mountain hunting. We make one exception and this is our Level 302 ELR (Extreme Long Range) course. This course is all about pushing the limits on extreme long range target engagements. The main focus of the L302 Extreme Long Range curriculum is to teach our clients the advanced ballistic knowledge to engage targets to 2000 yards and beyond. In this course you are expected to bring your own rifle. It is specifically designed to support the Gunwerks HAMR, however any Magnus or Verdict with a suitable optic is capable of hits at 2000 yards and beyond. This class requires a basic threshold of ballistics knowledge beyond what could be taught in the time allotted, so we require the student to have completed Level 101 and Level 201 within the last 5 years.
LRU Training Tracks Overview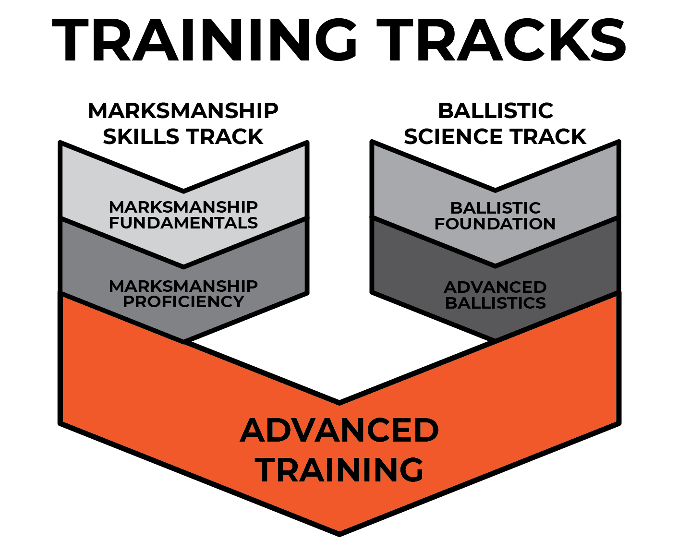 Long Range University
Our course curriculum is always evolving! Over the past couple of years, we have developed a new organization of training content, facilitating a more focused and progressive learning experience. Now our courses are organized into two parallel tracks, Ballistic Science and Marksmanship Skills, culminating in our Advanced training courses.
 
Ballistic Science
The core Long Range University curriculum is contained in our Ballistic Science track. We place a heavy emphasis on the science of long-range shooting. Generally, you will spend time in the classroom introducing concepts, followed by range demonstration and exercise to solidify complex topics.


Marksmanship Skills
The second track is our Marksmanship Skills track where we place a heavy focus on developing shooting skills. Light on the classroom, these courses spend most of the time teaching practical applications on the range.


Advanced Training
When you are ready to test your skills, we offer several advanced courses to challenge you and your equipment in calculated conditions to refine your experience and capabilities.  From mountain shooting venues to pronghorn hunting in New Mexico to a precision rifle competition, we can offer you the opportunity to achieve the next level.
Itinerary
Day
1
Arrival - Please do not arrive before 7:45 AM.

Advanced External Ballistics and Ballistic App class

Advanced Wind Compensation

Caravan to Sheep Mountain

Lunch

Range - Zero and trajectory validation out to 1500 yards

Debrief, Caravan to Cody
Day
2
ELR cold bore factors

Caravan to Sheep Mountain

Range - Long range cold bore, Trajectory validation out to 1500 yards.

Lunch

Range - 2000 yard shooting

Debrief, Caravan to Cody