Magnus Rifle System

The Magnus
At home hunting in the mountains and competing at the range, the Gunwerk's Magnus marries stability with power to deliver accurate & powerful shots downrange - every time.
Gunwerks' flagship Magnus rifle system was designed to be the most configurable precision long-range rifle system available.
With thousands of possible configurations, the Magnus can be customized to fit your specific needs. 
This rifle is built to withstand heavy recoiling rounds and offer ultimate stability with smaller rounds. The Magnus stands out with its vertical grip, shallow toe-line, and wide fore-end in addition to Gunwerks' signature integrated bipod rail. By introducing some tactical features and retaining hunting geometry the Magnus is the most versatile stock in the Gunwerks lineup.
---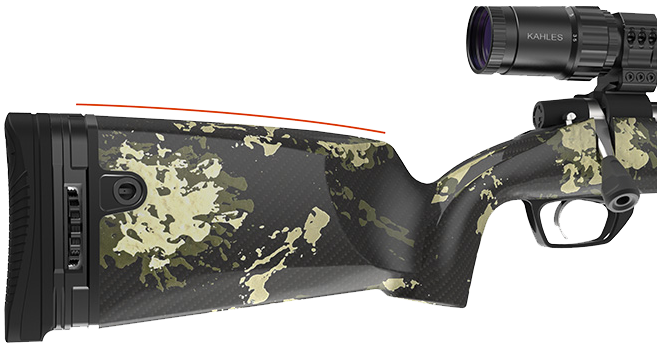 Minimize Recoil, Maximize Stability
Our trademark negative comb  line minimizes felt recoil on the cheek and face while the flat toe line maximizes stability and provides smooth and direct tracking during recoil.
This makes the rifle recoil straight back and aids in maintaining eyes on a target after firing for quick follow-up shots.
Adjustable Length of Pull
The butt pad can be adjusted via a spacer system that allows the shooter to fine tune length of pull.
This allows the shooter to fit the rifle to match their length of pull and natural point of aim.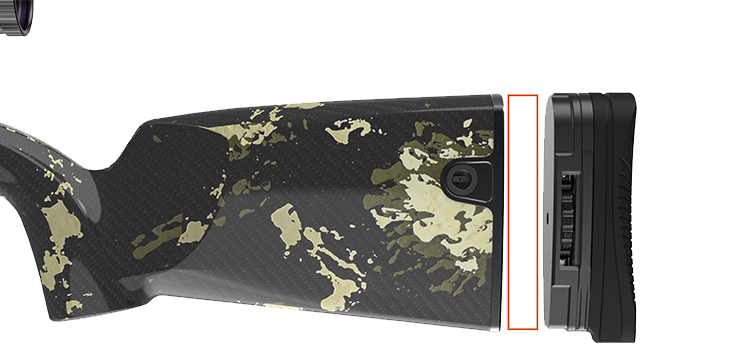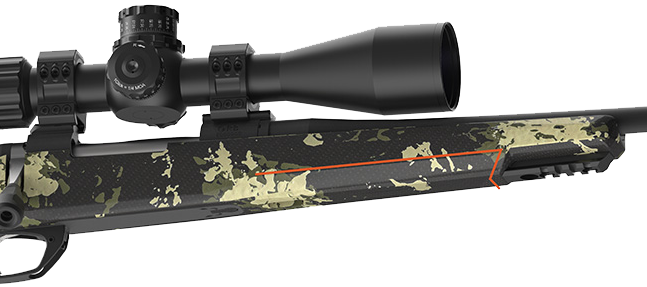 A Firm Foundation
A flat forend and optimized grip create built in stability.
The forend has a long, broad construction allowing the rifle to track properly on Bags, Bipods or Backpacks. 
The grip angle and length have been optimized to fit both prone and sitting positions for perfect ergonomics and trigger finger alignment. This makes proper shooting form more natural in the positions long range shooters employ most often. 
Ready for Every Situation
The built-in flush-mount picatinny rail and "QD" sling attachment are low profile for minimized snagging and allow easy attachment or removal. 
These, plus the optional arca rail, allow you to perfectly set up your bipod, tripod, or sling, no matter the shooting situation.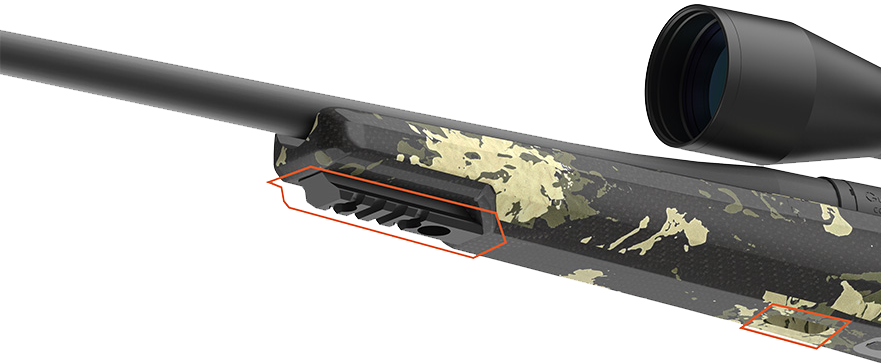 Durable and Lightweight
The Magnus stock is made from ultra light carbon fiber.
Our proprietary co-bonding process makes our stocks the strongest in the industry and ready for the extreme conditions that many hunters and shooters face every day. 
We sat on this ram for over two hours, finally making a move with about 20 minutes of daylight remaining. We were at 15,000', it was 10 degrees with a 20 mph wind and I was looking at a 630 yard quartering away shot into a tight window with another ram right next to him. It was the single best shot of my life, he went just ten yards.
Thank you and the team for recommending the 28 Nosler for this trip, it performed spectacularly!   
---  Chip H.
Previous
Next