Skunkwerks Trak Rifle System
Introducing the The TRAK, the latest edition of the Skunkwerks series of limited run rifle packages from Gunwerks.
We've included everything you need and done all the research and development to source and design the ideal components from the industry-leading QuietKat Apex eBike to the Gunwerks TRAK rifle with carbon fiber folding MDT Chassis for compact, easy carry. The Kifaru Hellbender pack with custom scabbard leave room for gear and carries your rifle securely with easy access.
Whether you're hunting spring bear hunting logging roads in the Pacific Northwest, Coyote or whitetail hunting the rolling hills & river bottoms of Nebraska, or gaining miles & elevation in pursuit of muleys in the rockies, the TRAK eBike hunting package will get you there faster, quieter and with more energy to spare so you can focus on the task at hand (Killing the trophy of a lifetime).


What's Included:
TRAK Rifle: Chambered in 6.5 Creedmoor


Titanium GLR Action with 16" carbon wrapped barrel & titanium directional muzzle brake

MDT HNT26 magnesium & carbon folding chassis

Vortex Razor LHT 4.5-22x50 FFP (XLR-2 MOA reticle) with ballistic package and custom turret
TRAK IT UP!
The ultimate bike hunting package to get you farther, quieter & with fresh legs to focus your time and effort on your hunt instead of the approach.



All The Right Elements
The MDT HNT26 Chassis employs Magnesium (33% lighter than aluminum and 75% lighter than steel) and carbon fiber in a way that produces an incredibly light and compact foldable chassis. We paired it with a titanium GLR action and 16" ClymR profile carbon wrapped barrel. The result is a complete rifle package that folds and stows inside your pack.
Razor's Edge
The Vortex Razor LHT 4.5-22x50 FFP rifle scope is one of the lightest in its class, and still coming in with long range capable magnification, great glass, an excellent first focal plane reticle, capped windage and an excellent turret with zero stop. In short, it checks all the boxes!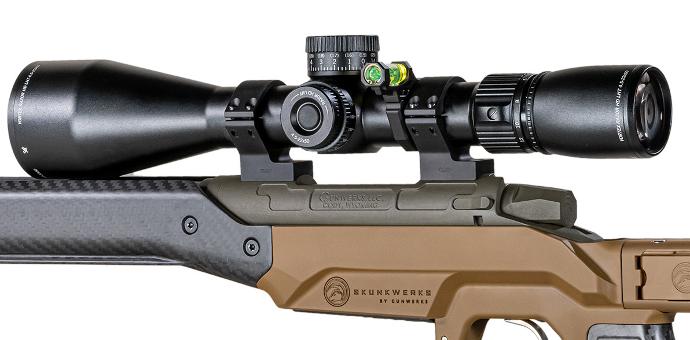 Yeah, it's light. But weight isn't everything. With the combination of 16" barrel and folding stock, the TRAK is the most packable rifle to come out of the Gunwerks shop yet. 
Specs: 
Weight: 6.b 9oz w/optic


Length: 35.75" extended (27.5" folded)


LOP: 12.5" (additional spacers can be added)